Looking for a little more excitement for your next Rotorua staff party or team building day out?  
When thinking of awesome ways to spend a crew day out, group activities can seem like a bit of a drag, but at Rotorua Rafting we're pretty confident we know how to spend a day off as a team!
So, get the gang together, grab your sense of adventure and enjoy a morale boosting, exciting day of team building activities in Rotorua with these awesome activities…
Rotorua Rafting – the best team building activity in town!
What better way to get the team a little out of their comfort zone than sending it over the worlds highest commercially rafted waterfall?
Rotorua Rafting are proud to offer one of, if not, THE best experience in the Bay of Plenty. The Kaituna River is home of Okere Falls, Kaituna Fall, and Tutea Falls; the infamous 7 meter waterfall. The Kaituna provides not only a stunning atmosphere, but thrills to entertain everyone in the group.
Rotorua Rafting is located in Okere Falls, a 20-minute drive from Rotorua city centre and will accommodate any group size!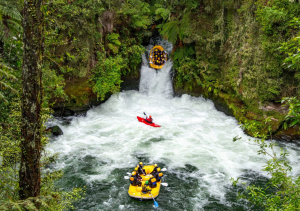 Skyline Rotorua Luge and Gondola
The gondola is a pretty cool way to take in the views of Lake Rotorua, the city & the surrounding district. Once at the top, let the whole team unleash their competitiveness and race down the sides of Mount Ngongotaha. With three different track options for all levels of excitement, accompanied with awesome views on the chairlift back to the top, once is never enough!
Skyline Rotorua is a 10minute drive from Rotorua Central, high on the side of Mount Ngongotaha!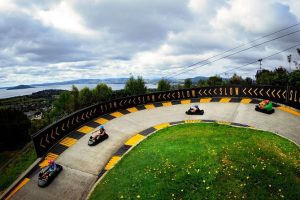 ZORB Rotorua
Just down the road from Skyline, you'll find ZORB Rotorua. If diving into a giant inflatable ball and rolling down Mt Ngongotaha doesn't make you feel young again, what will?
The Zorb was invented right here in Rotorua, is the biggest ball rolling park in the world and is fantastic for the whole team. You'll laugh until your cheeks hurt while rolling down FOUR different ball rolling tracks. When the fun is finished, you can jump straight into the hot tubs waiting at the bottom for a bit of a debrief while enjoying the views of lake Rotorua 😉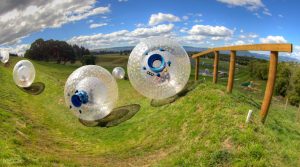 Rotorua Paddle Tours
Our final go-to group activity involves walking on water (whaaaat?!)
The original paddle boarding company in town, Rotorua Paddle Tours will have your team really bonding, all while enjoying Rotorua's surrounding lakes. The team can enjoy independence on a single board, or go XL paddle boarding on the BIG XL SUP – fitting up to 8 people, it will surely have the crew in stitches!
Rotorua Paddle Tours is also based in Okere Falls, making SUPing & Rafting the perfect adventure duo in town!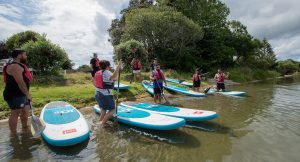 It doesn't get much better than this for an epic work function!
If you want to know more about our group offers, give us a call today on 0800 772 384
 What are you waiting for? Lock it in!