If our travels are going to be limited to a single country for a while, the team at Rotorua Rafting is feeling pretty lucky to be stuck with NZ!
Our family of rafting enthusiasts is obsessed with rafting, but we are also partial to a bit of diving, surfing, parasailing and kayaking. While in isolation, we've come up with this ultimate NZ water adventure itinerary that'll keep your adrenaline pumping all the way from the far north to the deep south. Keep this list handy, we'll be back on the water in no time.
Scuba dive at Poor Knights Islands
A water adventure ought to include some world class scuba diving, and we reckon Northland's Poor Knights Islands can't be beat. Poor Knights is a marine reserve famous for its excellent visibility, endless dive sites and variety of underwater experiences. Anyone from beginner to expert is welcome to explore the reserve's caves, wrecks, fish and cliffs.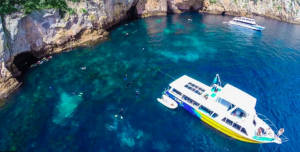 Parasail in the Bay of Islands
There's no better spot for parasailing than the top of the North Island and, at 1300 feet, the Bay of Islands is home to New Zealand's highest parasailing adventure. As you whizz through the air, you'll be treated to unparalleled views of the 144 islands that make up the Bay of Islands. Whether you fly solo or go with a mate or two, parasailing is a must for your water adventure travels.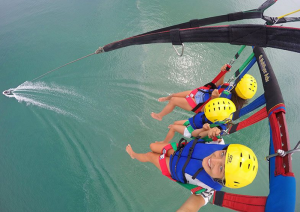 Surf in Raglan
On the west coast and about two hours south of Auckland lives a rad little town that boasts some of the country's blackest sands and best surf. The region's Manu Bay is loved by surfers around the globe for its left-hand breaks that offer the longest rides in the world. Raglan has a very strong local surfer community, but there are plenty of spots for beginners and visitors to enjoy as well.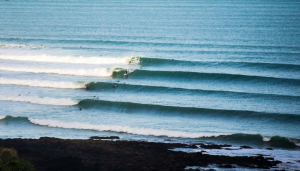 Black water raft at Waitomo Caves
Follow your Raglan surf with a uniquely Kiwi experience: black water rafting in a glow worm cave! The Waitomo Caves offer an action-packed trip where you can abseil underground, raft on rushing waters, jump off of waterfalls and view the magical sights of glow-worm clad caves. It's a water adventure experience like no other.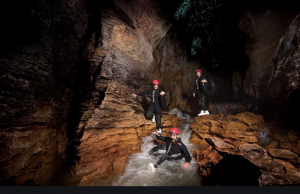 White water raft on the Kaituna River
Once you've finished black water rafting, be sure to head to Rotorua for the classic white water experience. Here you'll find the Kaituna River where you get the chance to raft down three awesome waterfalls including Tutea Falls, the world's highest commercially rafted waterfall. At seven metres high, this white-water rafting adventure is beyond compare.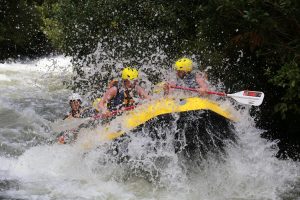 Sea kayak in Abel Tasman
Perhaps less heart-stopping than the water adventures of the north, spend a relaxing day in a sea kayak on the stunning turquoise waters of Abel Tasman. This region, at the tip of the South Island, boasts gorgeous golden sands, beautiful lagoons and plenty of offshore islands to explore. A kayaker's dream, this one's not to be missed.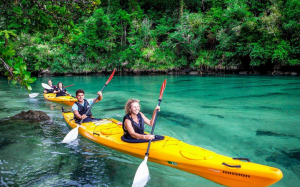 Swim with dolphins in Kaikoura
Swimming with dolphins is a life-changing experience and there's no better place to do it than Kaikoura. Dolphins are in their natural habitat here and tours limit their number of swimmers to keep it this way. You'll discover the joy, intelligence and curiosity of these beautiful creatures in a respectful and environmentally-friendly way.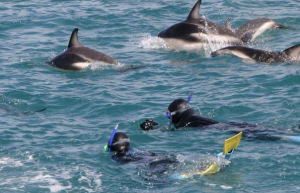 Skippers Canyon Jet Boat in Queenstown
Your NZ water adventures wouldn't be complete without a visit to the adrenaline capital of the south. There are plenty of ways to get the adrenaline pumping in Queenstown, but we recommend the Skippers Canyon Jet Boat tour. You'll be taken aboard for a tour of Skippers Canyon before speeding along Queenstown's famous and fast flowing Shotover River.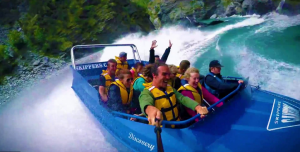 Time to get planning
We'll be busy exploring our own backyard again before we know it – now's the time to start planning your next trip! For more information on white-water rafting on the Kaituna River, get in touch with Rotorua Rafting.